4 DAYS CHIMP AND GORILLA TREKKING TOUR
The 4 Day Chimps and Gorilla Trekking Tour takes you to Ngamba Island on Lake Victoria to visit the place where orphaned chimps that are rescued from smugglers are kept and Gorilla trekking safari in Bwindi Impenetrable national Park.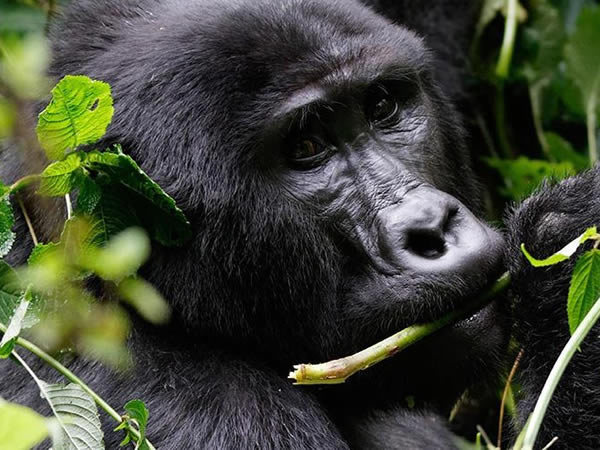 You will enjoy spending time with these delightful apes as you watch them play, feed, with their human attendants and make thrilling acrobatics on the tree branches. You will then proceed to the southwestern part of the country to encounter the Mountain Gorillas on the traveler's favorite – gorilla trekking.
Forest so thick you can't see the person walking less than a meter in front of you, ground as slippery as ice and at a minimum angle of 30 degrees – this is where your Bwindi gorilla trekking adventure in Uganda begins!
No other wildlife encounter in Africa matches the astounding experience of spending time face-to-face with wild mountain gorillas. Gorilla Trekking takes place in a handful of far flung locations, adding a layer of exotic adventure to these safaris that is hard to match on any other itinerary.
The fact that gorilla species are on the brink of extinction and treks are a highly restricted activity, encountering wild gorillas is considered once-in-a-lifetime travel experience.
The 4 Day Chimps and Gorilla Trekking Tour is a short safari best for Business travelers that don't have a lot of time for holiday safari and want to experience Uganda's primates.
Tour Highlights 4 DAYS CHIMP AND GORILLA TREKKING TOUR
Chimpanzee sanctuary on Ngamba Island
Road trip through Western Uganda via the Equator line in Masaka
Gorilla trekking adventure in Bwindi Impenetrable Forest
Bwindi indigenous native's community, Batwa trail
Tour Itinerary 4 DAYS CHIMP AND GORILLA TREKKING TOUR
Day 1: Ngamba Island Chimp Sanctuary
On the first day of the Chimps & Gorilla Trekking Tour, you will be driven to the pier on Lake Victoria to catch a speed boat that will take you to the sanctuary for orphaned chimpanzees on the Ngamba Island.
You watch them feed and display their playful antics that are a delight to watch. You will return to Entebbe and then transfer to Kampala for dinner and overnight at the hotel of your booking.
Budget: Anderita Beach Hotel, Papyrus Guesthouse Entebbe, Gately Inn Entebbe
Meal Plan: Dinner
Day 2: Travel to Kisoro Western Uganda, Bwindi Impenetrable Forest
The second of the Chimps & Gorilla Trekking Tour starts after breakfast when we set off for an 8-9 hour drive to Bwindi Impenetrable Forest in the south western part of the country where the long awaited gorilla trekking adventure will take place.
You will make another stopover for lunch en-route before continuing with your journey to Bwindi arriving in the evening.
Dinner and overnight will be at the lodge of your booking in Bwindi.
Lower Budget: Buhoma community Rest camp / Ruhija Gorilla Friends Camp / Travellers Rest Hotel Kisolo / Gorilla Valley Lodge
Moderate: Gorilla Resort Bwindi /Gorilla Safari Lodge / Silver Back Lodge / Lake Kitandara Camp / Chameleon Hill Lodge / Lake Mutanda Resort.
Up market: Mahogany Springs Lodge / Buhoma Lodge / Rushanga Gorilla Safari Lodge.
Meal plan: Dinner
Day 3: Gorilla trekking activity in Bwindi National Park
You will have an early breakfast and be driven to the Park Headquarters for a briefing about the rules of Gorilla tracking. After the briefing, you will set off for the Gorilla trekking activity in the thick jungle.
The jungle is very lively with rich forest sounds. The trek ranges between 2 – 8 hours and you have one hour to stay with the Gorillas once sited. In the afternoon you can opt for a community walk among the Batwa people who used to live in the Bwindi forest before it was gazette as a National Park and learn about their life and culture as a forest people or just rest after a tiresome trek. You will have dinner and overnight at your previous lodge.
Day 4: Travel back to Kampala with wonderful memories
You will depart Bwindi after breakfast and travel back to Kampala with a stopover for lunch in Mbarara town. You will continue the journey and make another stopover at the Equator where you will have an opportunity to stand in 2 hemispheres at the same time and take some photos. You will arrive in Kampala in the late afternoon.